http://i120.photobucket.com/albums/o193/copwatchla/Salvador2009.jpg
http://i120.photobucket.com/albums/o193/copwatchla/Salvador2009Spanish.jpg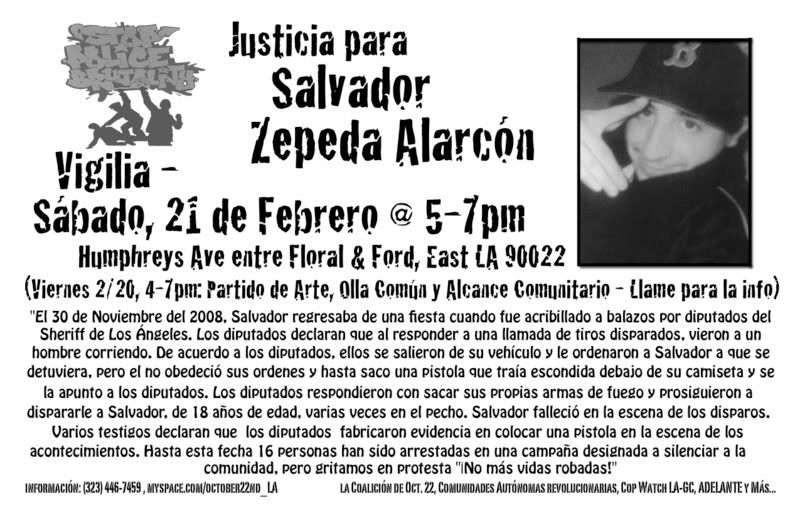 On Wednesday February 18th, 2009 members of the October 22nd Coalition and Cop Watch Los Angeles - GC / Revolutionary Autonomous Communities were doing outreach in the East Los Angeles Community, for the vigil that will take place Saturday, February 21st for Salvador Zepeda who was murdered in cold blood by the Sheriffs on November 30th, 2008. In the same community where Salvador (Chava) was killed, the same sheriffs that murdered him continue to harass and intimidate the community. When passing out fliers we witnessed Officer Subler go up to a young Chicano and harass him after he was given a flier for the vigil, at a nearby gas station. The officer asked him what he had in his hand and continued to ask him questions about it. When we started to film and observe he came up to the young woman who is a member of the October Coalition and begin to intimidate her and pulled on her bag, trying to get her bag which contained fliers for the vigil. After we filmed him he wanted to get our names and birthdates and threaten to detain us for filming him. He later left after giving us his name, and after he saw that we knew our "rights."
People in the community have called us and told us that the intimidation and harassment has been growing, and we see this as a means to scare them from coming out to the vigil to demand justice for Chava, and for the terrorism that they're living under on the daily basis in their neighborhood. It is important that people come out to the vigil on February 21st at 5pm, to show solidarity and support the families in this community. We need to continue to build a popular movement against the violence that is coming down from the state on our working class communities of color.
The pot luck that was supposed to happen Friday February 20th has been canceled and we will meet on the day of the vigil at 3pm.
To view more footage of Subler (East L.A. Sheriffs Department) harass organizers go to:
www.copwatchla.org
http://copwatchlosangeles.blogspot.com/
revolutionaryautonomouscommunities.blogspot.com
http://www.youtube.com/watch?v=d0w65GCOG8w
http://www.youtube.com/watch?v=h1zPqPcUIQU
http://www.youtube.com/watch?v=IlK1v47bp-8