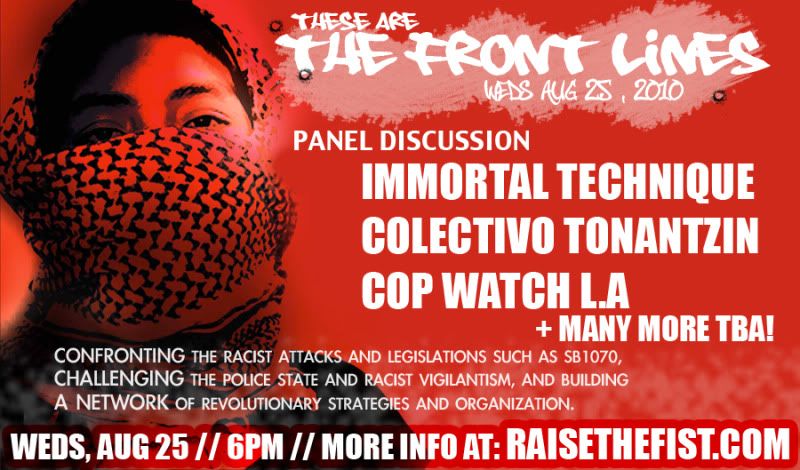 "THESE ARE THE FRONT LINES"
CONFRONTING the racist attacks and legislation's such as SB1070
CHALLENGING the
police state
and racist vigilantism, and building
A NETWORK of revolutionary strategies and organization.
Come join us for an intense
panel discussion
with various organizations,
direct action strategies
, revolutionary perspectives to popularize an analysis of our common enemy and how we MUST move a movement forward TODAY with ACTION.
Panelists
include:
Immortal Technique
Colectivo Tonantzin
Cop Watch
Los Angeles
+ many more to be announced
Please check back for location details soon to be posted
or go to
http://www.RaisetheFist.com/
for more info.
Mark your calendar: WEDS , AUGUST 25, 2010
Support Colectivo Tonatnzin
(panel will also be broadcasted live on Raise the Fist Radio (98.5fm Watts, Lynwood, Compton, N. Long Beach, N. Carson) and streaming world wide at
http://www.raisethefist.com/radio
)