9th Annual Chicago Anarchist Film Festival
Friday, April 24 – Sunday, April 26
7pm each night
Jan Addams Hull-House Museum Annex
on UIC Campus (2nd floor)
800 South Halsted.
For the 9th year, the Chicago Anarchist Film Festival (CAFF) will present a sample of films from main-stream sources, rediscovered classics and the works of filmmakers engaged in social change with an anarchist vision. Most media launch attacks that distort, discredit and deny anarchists entirely. Anarchists and their allies respond with a relentless volley of images and stories that reveal, revive and invigorate a rich anarchist presence in society.
Chicago Anarchist Film Festival (CAFF)
1321 N Milwaukee Ave #453
Chicago, IL 60642
CAFF@riseup.net
www.myspace.com/chiaff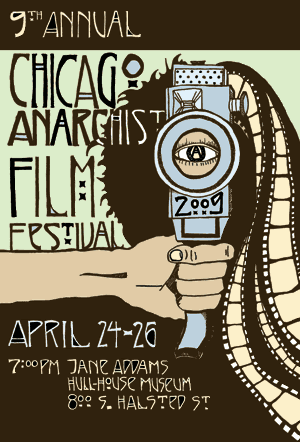 The 3rd Annual NYC Anarchist Film Festival in Honor of Brad Will, our comrade and colleague murdered by police, takes place Friday, April 10, 2009 on the Lower East Side.
The Third Annual NYC Anarchist Film Festival will showcase contemporary documentaries and videos on current events and social movements from Palestinian resistance to Israeli terror in Gaza to the popular uprising and recent riots that swept Greece like wildfire.
Big Noise Films will screen a selection of short films from Iraq. Filmmakers will present videos on radical environmentalism, radical feminism, and movements for justice such as the ongoing struggle for human rights in Oaxaca, Mexico. See videos of courageous resistance from India to Europe, to Latin America, to the U.S.A. where dissent is being criminalized as terrorism. See videos that challenge the State's unconstitutional "anti-terrorist" mandate from protests against the 2008 Republican National Convention. We also proudly present footage from the fight for free speech, in the Lower East Side's famous "Donut Riot" that ended with spontaneous combustion in Tompkins Square Park last summer.
Carlos Castaneda wrote in "Tales of Power" that the "true art of a warrior is to balance terror and wonder."" The NYC Anarchist Film Festival does not shy away from either the terror we are forced to confront in our world or from the wondrous inspiration that graces the human spirit...
Our hunger for liberation will never allow us to surrender to tyranny in any form. As the saying goes, "Give me liberty or die…!"
1-7pm: Films at the Sixth Street Community Center (638 E. 6th St, between Aves B and C)
8-10pm: Films at the Millennium Theater (66 E. 4th St, between 2nd Ave and the Bowery)
10pm-1am: Open Mic and Party at the Yippie Museum (9 Bleecker St, between the Bowery and Elizabeth St)
The NYC Anarchist Film Festival honors the life and work of Brad Will, a beloved friend and comrade, murdered by a government sniper in Oaxaca, Mexico on October 27, 2006, as he was filming.
In past years, talented and courageous independent and anarchist filmmakers from around the world have traveled to NYC to screen their brilliant films. The NYC AFF is a community forum to share and experience and discuss politically controversial, artistic, creative and socially diverse media.
The New York Anarchist Film Festival will consider radical films submissions. Have passionate, inspiring, rebellious and subversive content to share? (The shorter the better!) Please contact AFF Coordinator at: priya.warcry[at]yahoo[dot]com.
Priya Reddy
Organizer - Filmmaker/NYC Anarchist Film Festival in Honor of Brad Will