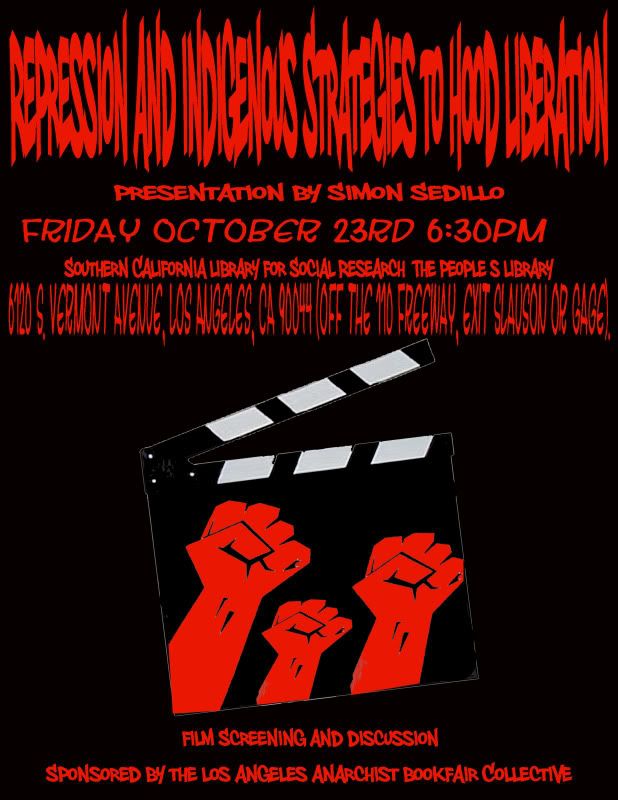 http://i120.photobucket.com/albums/o193/copwatchla/sadillocopy1.jpg
Repression and Indigenous Strategies to Hood Liberation
Presentation by Simon Sedillo
Film Screening
and Discussion
Friday October 23rd 6:30pm
Southern California Library
for
Social Research
"The People's Library"
6120 S. Vermont Avenue, Los Angeles, CA 90044

(off the 110 Freeway, exit

Slauson

or Gage).
Simón Sedillo
is a community rights defense organizer and film maker whose work has centered on learning from communities in resistance. Sedillo has spent the last 6 years learning, documenting, producing and teaching community based video documentation with communities in resistance across the US and
Mexico
. Through lectures, workshops, and screenings Sedillo helps open a powerful space for dialogue on the effects of neoliberalism on indigenous communities, immigrant communities, and communities of color in the US and Mexico. Through collaborative media projects, Sedillo's work has contributed to a growing network of community based media production whose primary objective is to share, teach, and learn from one another, about the construction of horizontal networks of community rights defense.
http://elenemigocomun.net/